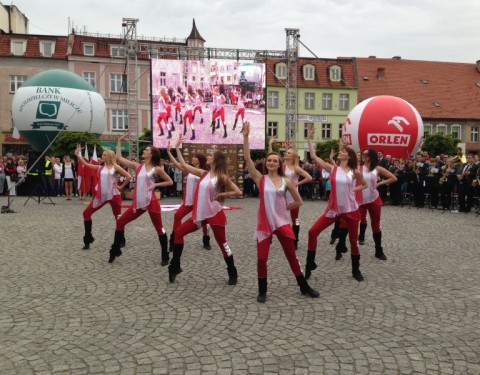 As the 9th edition of the Avenue of Volleyball Stars attracted some of the greatest names in Polish and international volleyball, new handprints were added on the promenade by the town hall left there by famous players − but not only.
New plaques were unveiled by Wojciech Drzyzga, Andrea Zorzi, a representative of the Orlen Group, brothers Nikola and Vladimir Grbić, Krystyna Wleciał- Hajec and Giba, with the last star predictably arousing enormous enthusiasm among volleyball fans gathered at the main square. A plaque was also unveiled to commemorate the tragic death of Arkadiusz Gołaś.
The guests of honour included representatives of the Polish national team: Andrzej Wrona and Krzysztof Ignaczak. Celebrations at the main square and the match that followed were made all the more memorable by dancers from Cheers Wrocław, famous for their appearances during Śląsk Wrocław basketball matches, as well as by a Rzeszów-based group of acrobats, whose performance amazed the audience.
Once the unveiling ceremony had ended, the fans and guests moved to the OSiR sports hall to witness the first match in the season between the Polish national team and Serbia. Poles won 3:1 (29:27, 25:21, 22:25, 25:19), though the meeting could have easily been a three-set win. Unfortunately, by the end of the third set, the Polish team led by coach Andrea Anastasi made some mistakes, which resulted in a lost set. In the fourth part of the meeting, Poles managed to stay focused and secure the winning set. Their fortunes turned the next day, when they had to concede a 1:3 victory to Serbs.
Author: Jola Temporale/tempaosporcie.blogspot.com